Holding on to the fact there are no coincidences with God helps us to build our faith during those times when there are more questions than answers. It also should give us the confidence and boldness to go out each day, knowing that God has a reason for everything we are experiencing in our life. Understanding what we are going through each day is not an accident, but part of God's plan that gives us the incredible freedom to live each day for Him. We never know how God will deliver us from trouble or how He will bless us. Our job is to hold on to our faith (firm and strong trust in Him), continue to praise Him in spite of the problems we face, and know He will never leave us or forsake us (Deuteronomy 31:6, 8; Hebrews 13:5-6). The Bible tells us that there will be times our faith is tested. It is at those times our faith becomes real to us and grows. We grow more spiritually in the valley than we ever could on the mountaintop. It is in the valley that we recognize God as our only source of hope and learn how to trust Him. It is those times in the valley where it is just us and God, and that we realize how much He loves us.
Psalm 107:1

"Give thanks to the Lord, for he is good; his love endures forever."
Proverbs 16:3

"Commit to the Lord whatever you do, and your plans will succeed."
Psalm 46:1

"God is our refuge and strength, an ever-present help in trouble."
Psalm 25:4-5

"Show me your ways, O Lord, teach me your paths; guide me in your truth and teach me, for you are God my Savior, and my hope is in you all day long."
Amazing divine appointment by the seashore
Messiah of Israel Ministries by the guidance of the Holy Spirit went down to the beautiful Mediterranean Sea shoreline of Tel Aviv. As Zev was sharing the love of Yeshua with many people, the Holy Spirit guided him to go near the sea waves. One of the last places you would expect to meet an Orthodox Rabbi is on the seashore. You might see a religious Jew walking near the sea, but not so close to the water.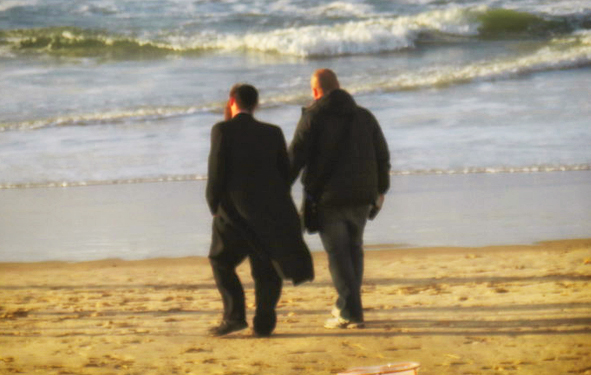 Zev walked over there and began praying as the Orthodox Rabbi was walking towards him. They both said "Shalom" to each other. Rabbi Yoni asked: "What are you doing here with a Bible in your hand?" Zev said to Rabbi Yoni: "God told me to come to the sea to share His love. What are you doing here?" The Rabbi said: "I never come to a secular beach. We have our own beaches but for some unknown reason I decided to come here today." Zev: "The fact that you came here today and we met is not a coincidence. There is no coincidence with God." Rabbi Yoni agreed. Rabbi Yoni asked if Zev wanted to become religious? Zev: "God wants our heart. He loves us so much and does not look for religion. Religion is from man not from God." Rabbi Yoni: "I don't understand why God brought me here." Zev said: "God brought us both here to meet in order to show us that He is in full control of our lives. What better place to meet than near the beautiful sea. He wants a relationship with you, not works." Zev then opened the Bible and read together with Rabbi Yoni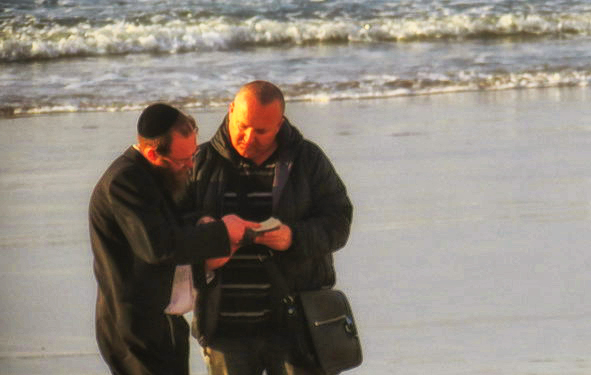 in Psalms 95:5

"The sea is His, for it was He who made it, And His hands formed the dry land."
Psalms 93:4 –

"More than the sounds of many waters, Than the mighty breakers of the sea, The LORD on high is mighty."

Isaiah 11:9 –

"They will not hurt or destroy in all My holy mountain, For the earth will be full of the knowledge of the Lord As the waters cover the sea."

After reading this, Zev explained to the Rabbi that God had them meet together this day by the seashore to show them His great power and knowledge. It was clear that this was a supernatural meeting. Yoni could not deny this because he knew God sent him there. Praise Yeshua! The Rabbi said: "Yes, I believe this is a meeting from God." This is something very unusual for an Orthodox Rabbi to say. Zev then asked Rabbi Yoni if he wanted a deep relationship with God. Rabbi Yoni said: "I am a Rabbi and I have a relationship with God." Zev: "Why did God bring you here today to meet me?" "I don't know" said the Rabbi. Zev: "Would you like to know the great knowledge that brings you into the real true relationship with God? What we just read about in the Bible is SUPERNATURAL. The Rabbi said: "Yes." Zev: "This can only be obtained by the Messiah. There is no other way. God is calling you to Him." Rabbi Yoni was shocked and said: "What do you mean? That does not sound Jewish." Zev asked Rabbi Yoni: "Did we not read the Jewish Tanach (Old Testament)?" "Yes" said the Rabbi. Zev: "Did the Jewish God of Abraham, Issac and Jacob tell you to come to the seashore today?" "Yes" answered the Rabbi. Zev: "So, it's a very Jewish supernatural meeting?" Rabbi Yoni was at loss of words. The Holy Spirit was working on him.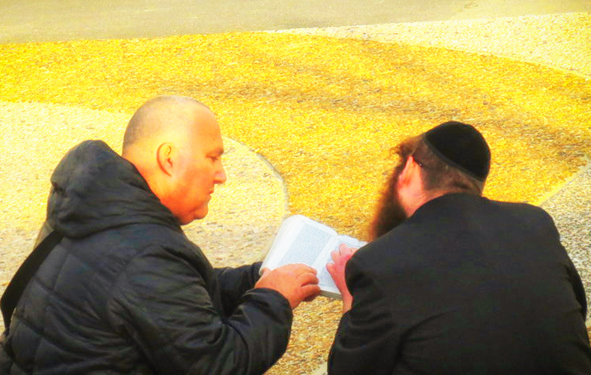 Zev and Rabbi Yoni then sat down and studied the Word of God for hours. Rabbi Yoni heard the full Gospel of Yeshua the Messiah. After studying, Rabbi Yoni asked Zev if they could meet again. Glory to Yeshua! This was a supernatural meeting.
Zev continued to share the Good News with many. We are all small people with a big God. Amen!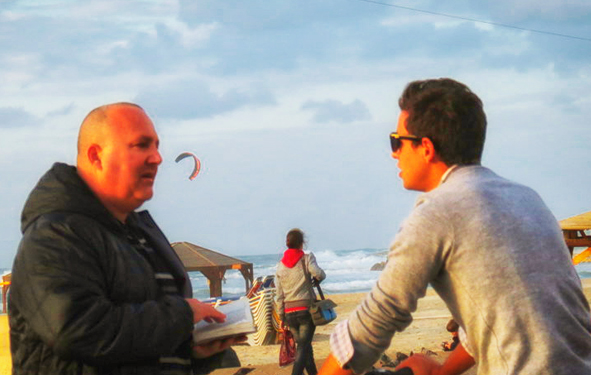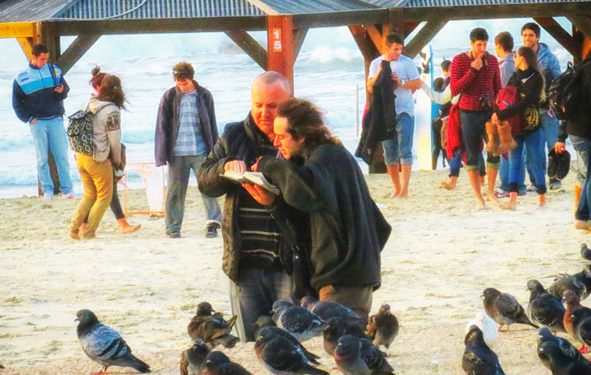 Support our work
Partner with Us