Me'ah Sh'arim (Hebrew: literally "hundred gates"; contextually "a hundred fold") is one of the oldest Jewish neighborhoods in Jerusalem. It is populated mainly by Haredi Jews (ultra-Orthodox Jews).
Me'ah Sh'arim was established in 1874 as one of the earliest Jewish settlements outside the walls of the Old City of Jerusalem (https://en.wikipedia.org/wiki/Mea_Shearim). Like Bnei Brak (one of the most ultra-Orthodox Jewish cities in Israel), Me'ah Sh'arim is an extremely dangerous place to share the message of salvation in Messiah Yeshua. But we of Messiah of Israel Ministries will keep on sharing the Good News of Yeshua the Messiah – dangerous or not – because "… faith comes by hearing, and hearing by the word of God" (Romans 10:17).
The enemy tries to stop believers from sharing the truth for fear of harm in places like Me'ah Sh'arim. We at Messiah of Israel Ministries will continue to share the Good News of Yeshua everywhere, no matter what the dangers, until "All Israel shall be saved" (Romans 11:26).
We are "not ashamed of the Gospel" of Yeshua (Romans 1:16).
Isaiah 41:10 –
'Do not fear, for I am with you; Do not anxiously look about you, for I am your God. I will strengthen you, surely I will help you, Surely I will uphold you with My righteous right hand.'
We give all the Glory to the King of kings, Lord of lords, Yeshua.
Me'ah Sh'arim, Jerusalem Outreach
We were praying in Jerusalem seeking the guidance of the Holy Spirit. While praying, an Orthodox Jewish man named David approached Zev and asked: "I noticed you are praying and don't have a prayer book. Why? You need a prayer book – a Siddur." Zev explained to David: "I have a relationship with God and pray to God from my heart, not from a religious book." David insisted that the rabbis teach we must pray through the Siddur if we want our prayers to be heard. Zev explained to David, with love and compassion: "Nowhere in the Bible does it say to pray through the Siddur." The Bible teaches us in Deuteronomy 6:5 –
"Love the LORD your God with all your heart and with all your soul and with all your strength."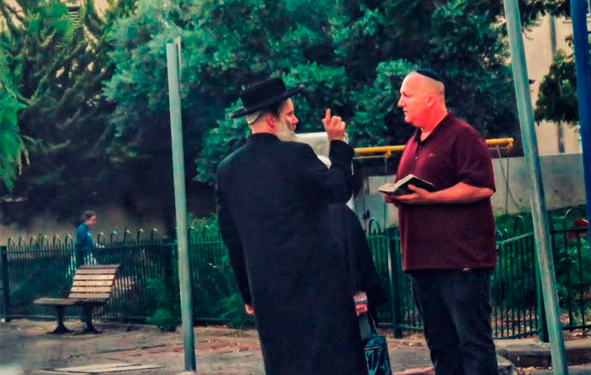 After David heard the Word of God, he asked Zev to explain the meaning to him. Zev felt led by the Holy Spirit to share with David the full Gospel. Zev told David that God used Moses to give us the Ten Commandments. Unfortunately, no man can keep the Ten Commandments, no one can meet God's standard, that's why God sent His Son the Messiah to die for our sins. He conquered death, rose for us on the third day and by His blood we have full redemption of sins. When we pray to the God of Abraham, Isaac and Jacob, we pray through His Son the Messiah. David was in shock and left. We pray for his salvation. After awhile, a rabbi by the name of Moshe called Zev to talk. At that moment, Zev was very cautious but the Holy Spirit told Zev: "Fear not, go and I am with you." Zev walked over to Rabbi Moshe, who confronted him: "What is that you were telling people about the Messiah. Don't you know this is a holy place?" Zev told him in a very calm voice: "God loves you and He sent me here today to proclaim His love and pray for the people." Moshe told Zev: "You are not a Jew telling people about this Messiah who died for our sins. That's not a Jewish Messiah; that's blasphemy and I won't allow it. You need to leave this holy place area now." Zev asked the rabbi: "Do you believe the Tanach (Old Testament)? It is the Jewish Bible." Moshe said: "Yes, but what you are doing is Christian, the New Covenant, which is blasphemy. Shame on you as a Jew for doing this." Zev said, "Let's read the Jewish Bible that you believe and see what God says." It was amazing. No matter how much the rabbi was upset, he still did not move. It was clearly God's Holy Spirit in full control.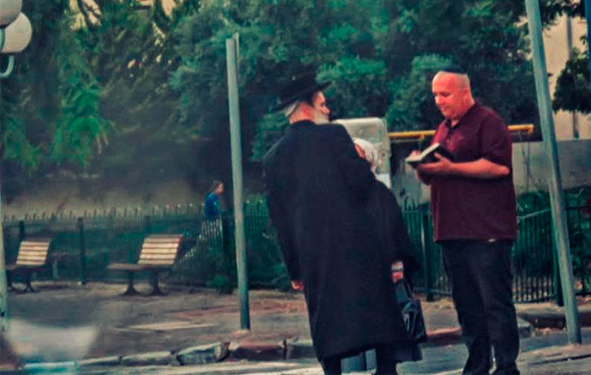 Zev then opened the Bible to Isaiah 53. When Rabbi Moshe saw this chapter, he said, "This is forbidden to read without rabbinic interpretation." Zev said: "This is the Written Word of God. It can't be forbidden. God gave it to man, not just to the rabbis. This is the way the evil one, the devil, is robbing the Jewish people of their salvation, and you are a rabbi, so let's read. Moshe was without words. He listened to Isaiah 53 in Hebrew –
1 Who has believed our message? And to whom has the arm of the Lord been revealed? 2 For He grew up before Him like a tender shoot, And like a root out of parched ground; He has no stately form or majesty That we should look upon Him, Nor appearance that we should be attracted to Him. 3 He was despised and forsaken of men, A man of sorrows and acquainted with grief; And like one from whom men hide their face He was despised, and we did not esteem Him. 4 Surely our griefs He Himself bore, And our sorrows He carried; Yet we ourselves esteemed Him stricken, Smitten of God, and afflicted. 5 But He was pierced through for our transgressions, He was crushed for our iniquities; The chastening for our well-being fell upon Him, And by His scourging we are healed. 6 All of us like sheep have gone astray, Each of us has turned to his own way; But the Lord has caused the iniquity of us all To fall on Him. 7 He was oppressed and He was afflicted, Yet He did not open His mouth; Like a lamb that is led to slaughter, And like a sheep that is silent before its shearers, So He did not open His mouth. 8 By oppression and judgment He was taken away; And as for His generation, who considered That He was cut off out of the land of the living For the transgression of my people, to whom the stroke was due? 9 His grave was assigned with wicked men, Yet He was with a rich man in His death, Because He had done no violence, Nor was there any deceit in His mouth. 10 But the Lord was pleased To crush Him, putting Him to grief; If He would render Himself as a guilt offering, He will see His offspring, He will prolong His days, And the good pleasure of the Lord will prosper in His hand. 11 As a result of the anguish of His soul, He will see it and be satisfied; By His knowledge the Righteous One, My Servant, will justify the many, As He will bear their iniquities. 12 Therefore, I will allot Him a portion with the great, And He will divide the booty with the strong; Because He poured out Himself to death, And was numbered with the transgressors; Yet He Himself bore the sin of many, And interceded for the transgressors.
As Zev read, he explained verse by verse to Moshe. After Moshe heard the Word, Zev explained: "This is the Jewish Messiah who died for us, so we can be free from our sins and have eternal life if we repent, believe and trust in Him. This is why I came here today to tell everybody about this amazing love that God has for us. We just read the Jewish Bible." Rabbi Moshe who had been upset, but now was silent, did not say one word.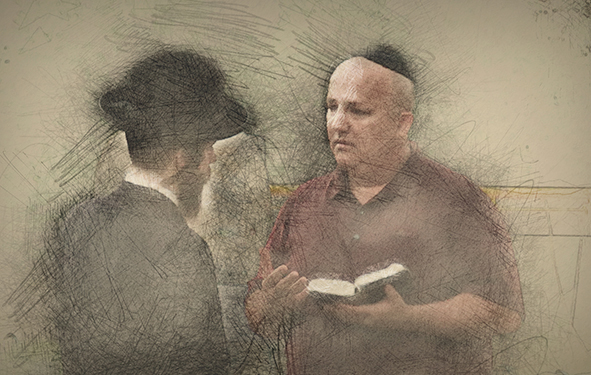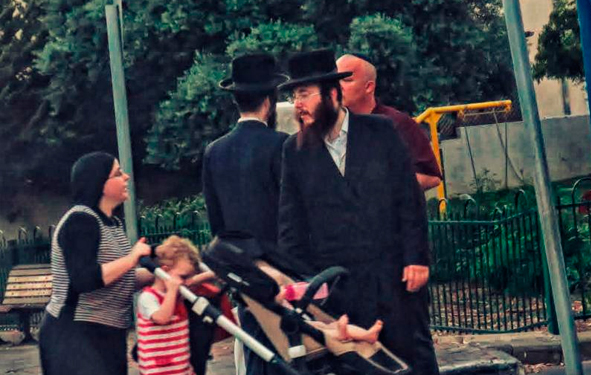 Zev then blessed him and continued to share the wonderful Love Gift of Salvation in Messiah Yeshua with many.
"For I am not ashamed of the gospel; for it is the power of God for salvation to everyone who believes, to the Jew first and also to the Greek" (Romans 1:16).
Let's stand together to bring the Gospel back to Jerusalem.
Support our work
Partner with Us